Garima Bharti - Director and Principal Physiotherapist 
Garima is the founder and Principal Physiotherapist of Get Better Physiotherapy Centres. She is a member of the Australian Physiotherapy Association. Her experience has been in private practice treating Musculoskeletal and Sports injuries. She came to Australia in 2006 to get her Physiotherapy license. After working for a while, Garima noticed a lack of high quality treatment. There was no emphasis on hands on Physiotherapy. Furthermore, there was lack of awareness among the general population. Most patients were well aware of chiropractors. However, had never even heard of Physiotherapy!
Garima strongly believes that Physio should be hands on. Her aim is to get the patients better quicker and educate them regarding the benefits of Physio.  As a result, Get Better Physiotherapy Centre was established.  Garima uses techniques such as joint mobilizations with massage. Her interests lie in the treatment of spinal disc related conditions.
Luis Fajardo - Business Manager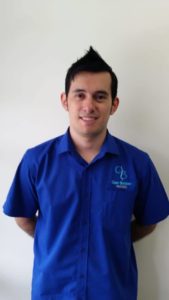 Luis is part owner of Get Better Physiotherapy Centres. First of all he came to Australia to study English . His interest in medicine lead him to work as a health professional.  He worked as a Physiotherapy assistant in the aged care sector. This helped him to learn about patient care and various health conditions. Because of his thirst for knowledge , he started studying certificate courses in Physiotherapy assistant. Subsequently continuing with Nursing. Having a nursing background has given him knowledge about the health care system. In addition to that, it has also educated Luis about managing a clinic. 
His polite nature makes him great at dealing with people. He is able to understand their viewpoint. Hence, he is able to provide them with the best service. Furthermore, his ability to understand the team makes him great at  decisions making. 
Marcin Lisewski Senior Physiotherapist - Browns Plains
Marcin is a Senior Physiotherapist at Get Better Physiotherapy Centre, Browns Plains. He is a member of the Australian Physiotherapy Association . He has over six years of experience in aged care and private practice. Although Marcin was fully qualified in Poland, he came to Australia to study Physiotherapy . While he was studying he worked as a massage therapist. This gave him better understanding of muscular issues. Furthermore , he attended various workshops to expand his knowledge. His interests lie in the treatment of headaches and shoulder pain. He is a great team player who is extremely adaptable. Additionally being organized helps him work well under pressure.At Get Better Physiotherapy, Marcin helps to train other Physios. As well as educating them , he also attends regular workshops himself. This is to stay up to date with the latest advances in treatment. He not only shares his knowledge with therapists but also his patients.  
Amita Naik Physiotherapist - Browns Plains
Amita is a highly motivated Physiotherapist at Get Better Physiotherapy Centre, Browns Plains. She came to Australia looking for better opportunities. Her past experience has been in treating children suffering from cerebral palsy and developmental problems. In addition, the position also involved liaising with other health professionals. As well as the kids clinic, she also worked in a multidisciplinary Center. The patients included amputees, brain injury, stroke, cancer and paralysis.  Furthermore, Amita did community group therapy sessions for seniors. 
She is experienced in using techniques like mobilizations and massage. Dry needling is also one of her skills. Amita is great with forming the right treatment plan based on the patient's goal. She keeps herself updated by attending various workshops. 
Anne Marie - Physiotherapist - Browns Plains and Park Ridge 
Anne is a highly experienced Physiotherapist with over 10 years of experience. Originally from Philipines, Anne also worked in Saudi Arabia prior to coming to Australia.  She not only worked in aged care but also hospitals. Her patients included people with neurological problems like stroke and paralysis. In addition to working full time, Anne is also raising three children!
As a physiotherapist at Get Better Physiotherapy, Anne treats patients at Browns Plains and Park Ridge medical centre. She is thorough in her assessments. Her treatments are designed to achieve patients goals. With this in mind, Anne tailors the treatment to her patients. Not to mention her  knowledge about techniques like mobilizing and massage. Anne is also skilled in dry needling to ease muscle tension. Owing to her polite and friendly nature, she  is able to build a great rapport with patients. 
Daniel Chan Moy Fat - Exercise Physiologist  
Daniel is a hard working individual with a degree in Exercise and Sports Science. Although he was working as an engineer he was interested in fitness. Hence, he studied a certificate course in personal training. Because of his interest in the health industry, Dan decided to be a health professional. Therefore, he started studying Exercise science. While he was studying he also worked in odd jobs learning the importance of team work.
At present, Dan designs effective programs for people depending on their fitness levels. He understands patient's goals and makes the exercises easy to follow. In particular his enthusiasm to learn more is commendable. Daniel is skilled in helping people especially with  joint injuries and muscle strengthening. Daniel is fluent in English and French! He is also currently learning Korean.
Find out more about Exercise Physiology and What is involved in the sessions?
Masami Harukawa - Remedial Massage Therapist, Browns Plains
Masami is a fully qualified Remedial Massage Therapist. To begin with she started working with Get Better Physiotherapy in 2014. Because of her passion to get people pain free , Masami changed careers. She went from an office job to being a massage therapist. She wanted to get a better understanding of how human body works.
Masami is great at treating muscular aches and pains. She uses different massage techniques like Swedish or trigger pointing. Especially using dry needling for muscle relaxation. In addition to that,  she is also skilled with pregnancy massages. Taking utmost care to ensure that the women are comfortable during the massage. As well as doing the above, Masami has a certificate in lymph drainage.
Presently being a therapist at Get Better Physiotherapy, Masami works alongside Physios. Because of this she has a better understanding of patient's injury. Masami is covered by all Private Health Funds which can be claimed on the spot through HICAPS.