Exercise physiologists are university trained professionals who show exercises that help in the recovery of injuries. They specifically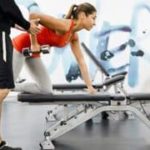 work on muscles that will strengthen weak muscles and protect the body part from future problems. Unfortunately a lot of people are unaware of the benefits of seeing an Exercise Physiologist. They have knowledge to prescribe exercises to improve serious condition such as heart problems, chronic lung diseases and diabetes.
If you are still unsure of how we can help, give us a call now and arrange to speak with our Exercise Physiologist. You may be able to get 5 sessions on Medicare or 8 group classes to control your diabetes.